It is a pleasure to extend to you a personal initiation to the upcoming Virtual 5th ERPA Annual Congress on Regulations and Compliance for Cosmetics (CRCC2021) organized by ERPA.
One of the greatest privileges I have as Chairman of ERPA (European Cosmetics Responsible Person Association) is to witness first-hand the impact our network has on people and organizations around the world. Our ecosystem touches the lives of many people and has the potential to create opportunities for our customers and partners. This is why, I would be thrilled to see you at this year's edition of the congress, and welcome you to our community!
The breadth and depth of our mission is powered by our top experts from different walks of life: authorities, regulators, businesses, that allow us to enable the impact that fuels our results!
At a time when digital communication is transforming every industry and every part of our daily life and work, we are committed to run an event that reaches as far as possible and fosters collaboration and engagement among its participants. The 5th edition of the Congress will be supported by a special digital platform, allowing everyone to connect, attend, stay connected, while granting access to the resources provided during the congress even after its completion.
As such, the CRCC is planned as follows:
• On January, 26th and 27th, 2021 the complete ERPA 5th CRCC
• You may find the preliminary agenda of the ERPA 5th CRCC here
• All sessions will be virtual
• The Q&A sessions will be live
This event addresses to all those involved in the cosmetics field worldwide, such as
• Manufacturers of cosmetic products
• Members of the regulatory department in business related to cosmetics
• Responsible Persons
• Safety Assessor
• Importers & distributors of cosmetic products
• Students of regulatory studies
What would you gain from our event?
• Information from European Commission and Authorities on cosmetics regulatory updates and changes brought by Covid-19 in regards to cosmetics
• Updates on cosmetics ingredients – CMRs, Omnibus Act, allergens, cannabis
• The impact of Brexit on cosmetics
• Online sales
• Best practices in cosmetics – GMP, relationship with commercial operators, compliance before sales
And many more…
I look forward meeting you at the congress, exchange ideas and learn from your experience. The Virtual 5th ERPA Annual Congress on Regulations and Compliance for Cosmetics (CRCC2021) has been designed around you, so that you can make the best of the information, knowledge, connections and network.
And this is just the start – I could not be more optimistic about what's yet to come.
Sincerely,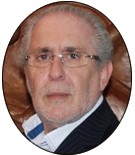 Gideon Elkayam
Obelis
Congress Chair